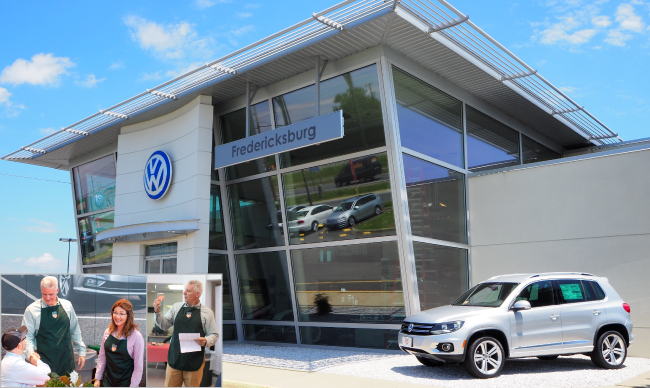 Welcome to Volkswagen of Fredericksburg
Volkswagen of Fredericksburg is a Huber Motor Cars company.

Huber Motor Cars includes Mercedes-Benz of Fredericksburg and Volvo Cars Fredericksburg, located at 1001 Noble Way in the city of Fredericksburg, and Volkswagen of Fredericksburg and Mazda ofFredericksburg, located on U.S. 1 near Interstate 95 in Spotsylvania County. The Huber line also includes Huber Collision Center at 2303 1/2 Jefferson Davis Highway in Fredericksburg.

Huber Motor Cars operates on a set of principles that demands integrity in every transaction and incorporates giving back to the community we serve. Our goals are to gain our customers' trust by always seeking to do what is fair and right, to build our employees by empowering them to succeed, and to strive for excellence in everything we do.
It is those principles, derived from the company's Biblical foundation, that led owner Clay Huber to implement a negotiation-free sales process in 2016 for both new and pre-owned vehicles at all of his dealerships.

Known as Fast Fair Simple Guaranteed, this process is the signature element of "Car Buying The Huber Way." Fast Fair Simple Guaranteed eliminates the stress of traditional car buying through transparent pricing and focusing on finding guests the vehicle that fits their needs and budget, both of which dramatically cut the time involved. Clay was among the first dealers in the nation to launch negotiation-free sales for his luxury brands and felt it was essential for his business plan, which seeks to honor God by pursuing excellence and practicing integrity while serving our guests.
Clay Huber, a 25-year-veteran of the automobile business, is the owner of Huber Motor Cars of Fredericksburg, Va., which was launched on September 11, 2015. The Virginia Tech graduate and mechanical engineer is a self-professed "gearhead" who enjoys every kind of wheeled transportation - from his road and mountain bikes to his motorcycles and orange Porsche. He also savors every opportunity to take to the skies as a pilot.

Launching Huber Motor Cars is the fulfillment of Clay's long-held dream to run his own group of companies. Clay's priorities are his faith, family and fun, all of which inform his approach to life and business. Clay and his wife, Gail, have three sons - two in college and the third in high school.

At Huber Motor Cars, we're driven to a Higher Standard.

Volkswagen of Fredericksburg serves customers from Northern Virginia to Richmond, offering exceptional sales and service in each transaction. Our company also offers other outstanding vehicle brands at nearby stores: Mercedes-Benz of Fredericksburg, Volvo of Fredericksburg and our neighbor, Mazda of Fredericksburg.

You'll see our commitment to superior customer service in everything our dealership has to offer. Our first-class sales representatives make you their number-one priority, giving you their undivided attention and listening to what you want and need from an automobile. Then they show you our extensive inventory that includes new Volkswagen vehicles as well as Certified Pre-owned Volkswagens and high-quality used autos from other manufacturers. You won't find high-pressure sales tactics here - just a sincere staff committed to finding the perfect car for you. We also have a team of finance experts who find a loan or lease payment that fits your budget so you don't have to secure financing before visiting us or leave during your shopping experience to do so.

 Once you purchase your car, our dedication does not end there. We plan on developing a long-term business relationship with you that includes regular vehicle maintenance and engine repairs performed by our certified technicians. They service your automobile with state-of-the-art equipment and strive to get you back out on the road as quickly as possible.

 Let us help you find the automobile you've always wanted! Call us today at 540-369-3103 or visit the showroom located just a mile off of I-95 at 5208 Jefferson Davis Hwy, Fredericksburg, VA 22408.